Shaw

Shaw School Golden Jubilee celebrations in June 2002 when each
child was presented with a medallion financed by a Parish Council grant.

Shaw is a medium sized village with about 500 electors. It comprises a blend of traditional cottages and some more modern buildings. It is a thriving community which centres around Shaw Village Hall and playing fields. Shaw also has an excellent school which is popular with many families from nearby Melksham as well as local people. The school is a Victorian building next to Shaw Church with its distinctive Church spire. Shaw Church, built in 1905 is one of the main features on the Parish Council Chair Badge of Office.

Christ Church Shaw & Whitley

Interiors of Shaw Church


In recent years the villages of Shaw and Whitley combined to set up SWAG - Shaw and Whitley Action Group. This Group completed a Village Action Plan. Recent improvements included traffic-calming, a compost collection scheme and a community litter clean-up day. SWAG is now dormant, but could be revived if any major issues arose.
Youth Work
In 1999 a very successful youth club was set up and the leaders were awarded a Special Award by the then Wiltshire County Council It closed in 2001 when they left. A few years later, young people from the village attended a Youth Issues Meeting to ask for better facilities. A Public Meeting was then organised by the Parish Council working with Melksham First for everyone; young people, parents and older residents, to get together and say what they would like to see for the future. There was interest in having a new Youth Club but this has still to happen.
The Council is especially keen to hear from anyone in Shaw and Whitley who would like to help set up and run a new Youth Club. Young people especially value internet access so that they can participate in facebook and tweeting and this could possibly one of the facilities of a new Youth Club.
The Parish Council has also been trying to find a possible site for a Youth Shelter; either in Shaw or Whitley. To date, no suitable site has been found.
Shaw Hall and Playing Field
Shaw also has a wonderful 5 acre playing field where Shaw Village Hall is situated. The playing field once hosted the famous cricketer, W.G. Grace. The Village Hall Management Committee in liaison with the Parish Council has extended the car park and installed mains drainage. In 2009/10 the access path to the side entrance has been improved, a new "low sill" door suitable for wheel and push chair traffic has been installed and the roof guttering and down pipes have also been renewed.
Shaw Play Area in the playing fields offers a good range of play activities for all ages. The Parish Council is planning a spruce up of the play equipment and running repairs to the safety surfacing. The Council is now reserving funds for a long term project to replace play equipment surfacing in a few years time. In the future, the pitch at the village hall in Shaw will also need new drains.
Ten years ago, a half size basketball court was installed to cater for older children; funded partly by the Parish Council and partly by a grant from the District Council. In 2010 a survey of all residents of Shaw and Whitley was conducted asking them if they would agree to the Basketball court being extended to make a full size court, and therefore install a combination goals unit to allow for a variety of sports. Lots of fund raising has secured nearly £20,000 for the project. Work started on site in the Spring/early Summer and there was great joy at the opening of the new Basketball court on 30th July, 2011.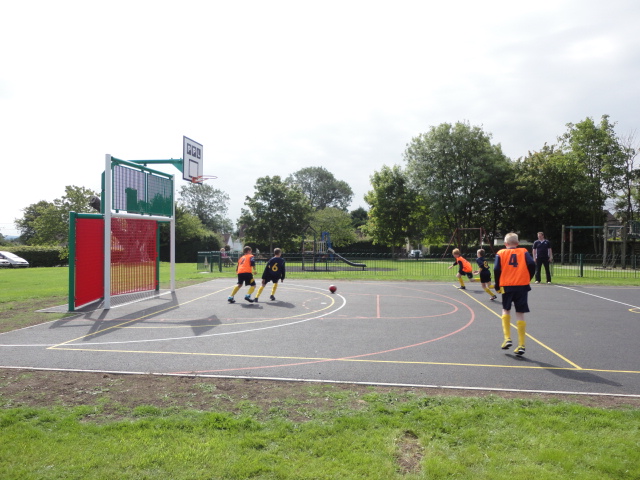 Shaw Basketball Court - Click for more pictures

The opening ceremony of the basketball court performed by Cllr Mike Mills
(Click the image to play)
Caution! No Dog fouling at Shaw Playing Field
Following complaints from local residents, the Parish Council has erected a sign at Shaw Playing Field to stipulate that dogs must be kept on a lead in the playing field and owners must clear up any mess. PLEASE NO DOG FOULING
On the main road between Shaw and Whitley, there is a modest-sized Golf Course, which offers the chance for young people to learn golf at a reasonable price.
In June last year (2010) the Parish Council applied for a "Parish Improvement Grant Scheme" (PIGS). These information boards have been erected in four sites in the Parish, Shaw and Whitley, Beanacre, Berryfields and Bowerhill. They have proved to be very popular.
The village has a hotel, the Shaw Country Hotel which is at the entrance to the village on main A365, coming from the Melksham direction. At the other end of the village there is a pub called The Golden Fleece, also at Shaw Hill is the thriving Lowden Garden Centre with a tea room.
In February 2009, a modern shelter was installed at Shaw Hill, opposite the Beeches.

Bus Shelter at Shaw Hill
Click Here for a brief history of Shaw